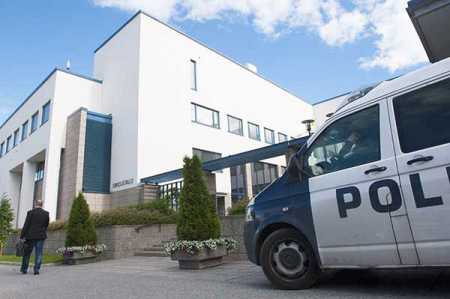 Central Finland District Court on Tuesday decided to place two Swedes on remand for Jyväskylä Neo Nazi violence on Saturday. Photo – Str / Lehtikuva.
The District Court of Central Finland on Tuesday sent two Swedish nationals involved in the Neo-Nazi riots on Saturday in Jyväskylä to remand.
The two Swedes aged 25 and 31 years will remain behind the bars in suspicion of participating in a violent riot and assault as investigation continues.
The court set the date for the pressing of charge on November 3 this year while the police continue with pre-trial investigation.
The court will hear the case brought against five Finns who are in detention in connection with the violent rioting on Friday.
The head of the Neo Nazi group Finnish Resistance Movement known in Finnish as Suomen Vastarintaliikkeen (SVL) and the editor in charge of Neo Nazi group's website are among the five who will appear before the court on Wednesday.
Both are suspected of leading and participating in the violent riots. The leader of the group also faces the charge of threat or cause of a violent act by an official.
The arrests were made after the Finnish Resistance Movement led riots in Jyväskylä.
The rioters assaulted three people. One of those who assaulted during the Saturday's riot happened to be a victim of Jyväskylä library stabbing the year before last.
The Finnish Resistance Movement is a Neo Nazi group which describes itself as national socialists.
The group has over the years been involved in a number of clashes around the country.